Alu Bi-Folding Doors
Aluminium bi-fold doors are perfect for rooms with a view and fit extra wide spaces, allowing greater access to the outdoors.
Our bi-fold doors come with a range of customisation options and accessories giving beautiful results for any refurbishment or new build project.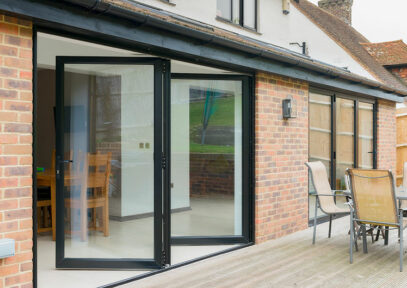 The perfect choice for Bi-folds.
Aluminium is extremely durable, lightweight and strong which makes it the perfect material for bi-fold doors. There is minimal contraction and expansion due to temperature, preventing the door frames from bending and not operating smoothly.
Aluminium door frames are now just as energy efficient as their uPVC counterparts, whilst still allowing for a slim and stylish design.
Like all of our aluminium products, bi-folds are supplied with high-performance Low-E soft-coat, toughened, double glazed units with a warm edge spacer bar.